Dental Care for the Whole Family
Dentist in Grand Rapids, MI
As we age, our needs in terms of dental treatment change. It is our mandate to be able to provide the best care for all ages.
If you have ever felt that your smile would benefit from a little brightening or shaping, we have cosmetic dentistry services for you.
If you have ever had a dental emergency, call us right away. You know the importance of quick and compassionate care.
Restorative dentistry restores the full function and appearance of your smile. We are here to help you get your best smile!
Improperly aligned bites can result in pain, discomfort, and damage to your teeth. Braces can help fix these problems and improve your smile.
Dental implants are a safe, durable replacement for missing teeth. Dental implants function and appear like natural teeth.
Welcome to Nichols Family Dentistry!
Comprehensive Grand Rapids Dentist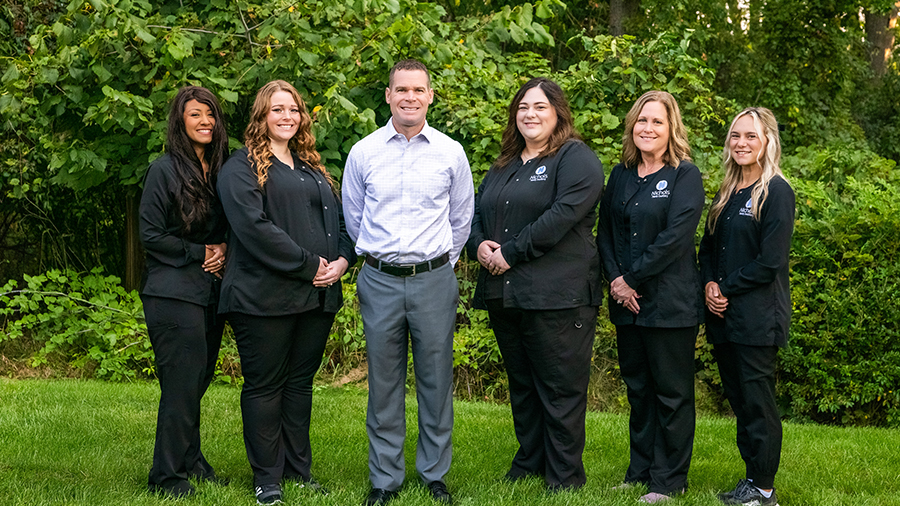 Welcome to Our Office!
Dr. Michael Nichols is a family dentist in Grand Rapids, MI. As such, he's committed to providing excellent dentistry in a comfortable environment. You deserve a skilled, experienced dental team that can help you ensure great oral health. Experience what patient-centered care can do for you!
We welcome new patients of all ages.
You Benefit From Our Education and Experience
Dr. Michael Nichols has an ongoing commitment to continuing education. We invest countless hours in learning the latest techniques and technologies in dentistry. You will receive effective and efficient care from our experienced dental team.
Make Nichols Family Dentistry your dental care partner. Contact our office for an appointment today!
Your Care is as Individual as You Are
At Nichols Family Dentistry, we personalize your dental care experience. Our friendly, knowledgeable team will address every question and concern. We'll also customize your treatment plan to your specific oral health needs and goals.
We want to work with you to create the beautiful, healthy smile of your dreams!
Enjoy The Convenience Of Comprehensive Dentistry
You are important to us. For your convenience, we provide a wide range of dental solutions. Some of these options include root canal therapy, oral cancer screenings, and mouth guards.
If you need care from an outside specialist, we'll refer you to one of our trusted colleagues.
Optimal Results Through Proven Technology
At Nichols Family Dentistry, you'll benefit from our state-of-the-art facilities. We use accurate, efficient modern equipment to ensure your comfort at all times.
Some of our advanced dental technologies include technology page for more information.
, , panoramic X-rays, and digital X-rays. Visit our
Visit Our Grand Rapids Dental Practice
Hours: Mon: 9-6pm | Tue: 8-4pm | Wed: 8-4pm | Thu: 7-2:30pm
SEPTEMBER - APRIL WE WILL BE OPEN THE 3RD FRIDAY OF EVERY MONTH FROM 7 - 2:30