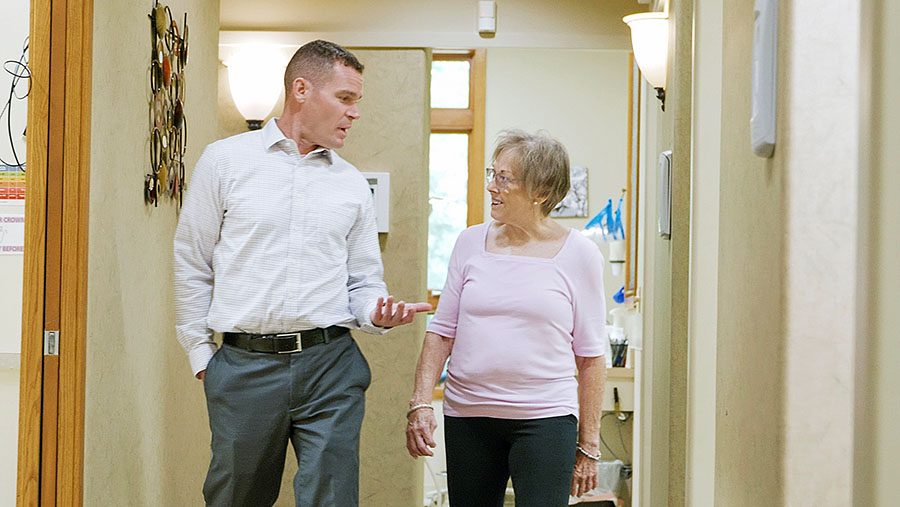 As the name suggests, the goal of restorative dentistry is to restore the full function and appearance of your smile. As a family dentist in Grand Rapids, Dr. Nichols offers a wide range of restorative dental treatments. That way, you can start smiling with confidence as soon as possible!
To learn more about any of our dental services, please feel free to click on the links below.
You may also call our office with any questions you may have about your treatment. Our team would be more than happy to help!
Do you have a toothache? If so, you may need composite fillings and it's important that you call our office as soon as possible. Our team will work hard to fit you into our schedule for an emergency appointment.
Over time, teeth begin to weaken. This leaves them more susceptible to problems such as decay, cracks, or discoloration. A dental crown can renew the appearance and function of a tooth.
Dr. Nichols may recommend a dental bridge to replace one or more missing teeth. A dental bridge is a prosthetic tooth that's anchored in place by crowns on adjacent teeth. We may also place crowns on adjacent dental implants.
Root canals are a safe, effective treatment that we use to restore abscessed teeth. Root canal therapy treats the center of a tooth (the pulp) that's inflamed, infected, or dead. This soft pulp consists of nerves, blood vessels, and connective tissue.
Wisdom teeth are the last set of permanent molars to emerge. These teeth are also the most likely to need extraction, due to any of several complications. But other teeth may also need extraction if we can't save them with root canal therapy or other treatment.
Dentures are a removable replacement for one or more missing teeth. Our dentist may recommend them to restore both the function and aesthetic of your smile. Dentures are custom-fitted and match the appearance of your natural teeth.
Dental implants are a safe, durable replacement for missing teeth. Dental implants function and appear like natural teeth. Nichols Family Dentistry will always ensure your optimal comfort and quality care.
Periodontics involves the prevention, diagnosis, and treatment of periodontal disease. Our team has the expertise and experience to help you keep your teeth, gums, and jaw healthy.